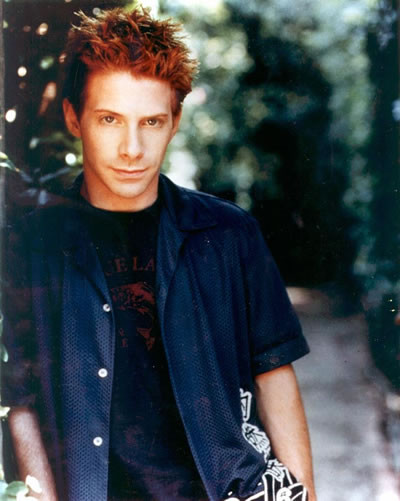 Seth Geshell Green
Дата на раждане-8 Февруари 1974г.
Място на раждане-Philadelphia, Pennsylvania,USA
Зодия-Водолей
Първата му изява е през 1984г.във филма "A Billion for Boris"
През 1987г.играе Joe,във филма на Уди Алън"Radio Days"
Участва в"Big Business"-1988г. и в"My Stepmother Is an Alien",
където си партнира с Alyson Hannigan
Получава ролята на Скот,сина на др.Ивъл в трите части на "Austin Powers"
По-късно,Сет получава роли на компютарен специалист в "Enemy of the State"
и "The Italian Job"екранни партньори са му звездите Марк Уоулбърк,Чарлийз Терон,
Джейсън Стейтъм и Едуарт Нортън
Има участие и във филмите"Rat Race","Scooby Doo 2: Monsters Unleashed"-със Сара Мишел Гелар,
и "Without a Paddle".
Най-известните му телевизионни роли са тази на Даниел'Оз'Озборн
в сериала "Бъфи...",и още в "Greg the Bunny'
"Tucker","The X-Files","That '70s Show","Will & Grace","Mad About Steve",
"Entourage"
Ето и по-подробна Филмография:
* The Brazilian Job (2008) - Lyle
* Naughty or Nice (2006)
* Electric Apricot: Quest For Festeroo (2006) - Jonah
* Tony Hawk's Project 8 - Nerd
* Best Man, Worst Friend (2006) - Murray Brown
* Stewie Griffin: The Untold Story (2005) (V) (voice) - Chris Griffin/additional voices
* Robot Chicken (TV series) (voice)
* Be Cool (2005) (uncredited, as music video director)
* Without a Paddle (2004) - Dan Mott
* Sesame Street (2004)- Vinny (A mailman delivering the "Letter of the Month.")
* Scooby-Doo 2: Monsters Unleashed (2004) - Patrick
* The Italian Job (2003) - Lyle (Napster)
* Party Monster (2003) - James St. James
* Austin Powers in Goldmember (2002) - Scott Evil
* Greg The Bunny (2002 TV series)- Jimmy Bender
* Knockaround Guys (2002) - Johnny Marbles
* Rat Race (2001) - Duane Cody
* Josie and the Pussycats (2001) - Travis (Uncredited)
* America's Sweethearts (2001) - Danny Wax
* That '70s Show (2000-2002, TV series) - Mitch Miller
* 100 Deeds for Eddie McDowd (1999-2000, TV Series)(voice) - Eddie McDowd
* Austin Powers: The Spy Who Shagged Me (1999) - Scott Evil
* Idle Hands (1999) - Mick
* Family Guy (1999) (TV series) (voice) - Chris Griffin/additional voices
* Enemy of the State (1998) - Selby (uncredited)
* Can't Hardly Wait (1998) - Kenny Fisher
* Buffy the Vampire Slayer (1997–1999, TV series) - Daniel "Oz" Osbourne
* Austin Powers: International Man of Mystery (1997) - Scott Evil
* To Gillian on Her 37th Birthday (1996) - Danny
* Airborne (1993) - Wiley
* Byrds of Paradise (1994)
* Batman: The Animated Series (1992, TV Series) (voice) (From I Am The Night) - Wizard
* Stephen King's IT (1990) (television movie) - Richard "Ritchie" Tozier (as a boy)
* Pump Up the Volume (1990) - Joey
* My Stepmother Is an Alien (1988) - Fred Glass
* Big Business (1988 film) - Jason
* The Facts of Life - Adam Brinkerhoff (2 episodes, 1988)
* Can't Buy Me Love (1987) - Chuckie Miller
* Radio Days (1987) - Joe
* The Hotel New Hampshire (1984) - "Egg" Berry
* A Billion for Boris (1984) - Benjamin "Ape Face" Andrews